Families hire us to help their loved ones remain as independent as possible in the comfort and safety of their own home. Our clients hire us because we fully understand their specific needs. We know their care is personal and individual. Our families trust us to assist their aging loved ones because we can give them customized care from a local, family owned business.
Our main office numbers are answered 24/7 by a member of our office team. So, no matter when you or your loved one have an emergency situation, you can always reach us. If your caregiver has an emergency, our office team gets right to work on it and we have somebody else ready and available to cover those hours.
As a family caregiver, you have taken on the responsibility of caring for a loved one who needs personal care. Keeping a loved one at home can provide comfort and security, but it can also be challenging when it comes to providing the necessary care. Personal care services can help ease the burden and provide the support you need to keep your loved one happy, healthy, and safe.
According to a study by the

National Institute on Aging

, 90% of seniors prefer to age in place and receive care in their own home. 

The

National Association of Home Care and Hospice

estimates that there are approximately 11 million seniors receiving home care in the United States. 

A study by the

AARP Public Policy Institute

found that home care is more cost-effective than nursing home care.
"Home is where the heart is. It's also where seniors can receive the best care for their physical and emotional needs." – Maria Shriver
Personal care is a type of care that helps with the activities of daily living (ADLs) such as:
bathing, 

dressing, 

grooming, 

toileting, 

incontinence care, 

transferring from bed to chair, and ambulating.
It's important for seniors who need assistance with these tasks to receive the help they need, not only for the sake of hygiene but also to maintain their independence and quality of life.
The Benefits of Personal Care
There are many benefits to personal care, including:
Improved hygiene: Personal care services help ensure that your loved one is clean and well-groomed, reducing the risk of infections and other health problems.
Increased independence: Personal care services can help your loved one maintain their independence by assisting with activities that have become difficult to perform on their own.
Improved quality of life: By receiving the necessary care and support, your loved one can enjoy a better quality of life, feel more comfortable, and maintain their dignity.
Eased caregiver burden: Family caregivers often struggle to balance the demands of caring for a loved one with their own responsibilities. Personal care services can help reduce this burden, allowing you to focus on other aspects of care.
Providing Personal Care at Home Services within 90 miles of Charlotte, Raleigh, Cary, Chapel Hill, Greensboro, Winston-Salem, and Southern Pines.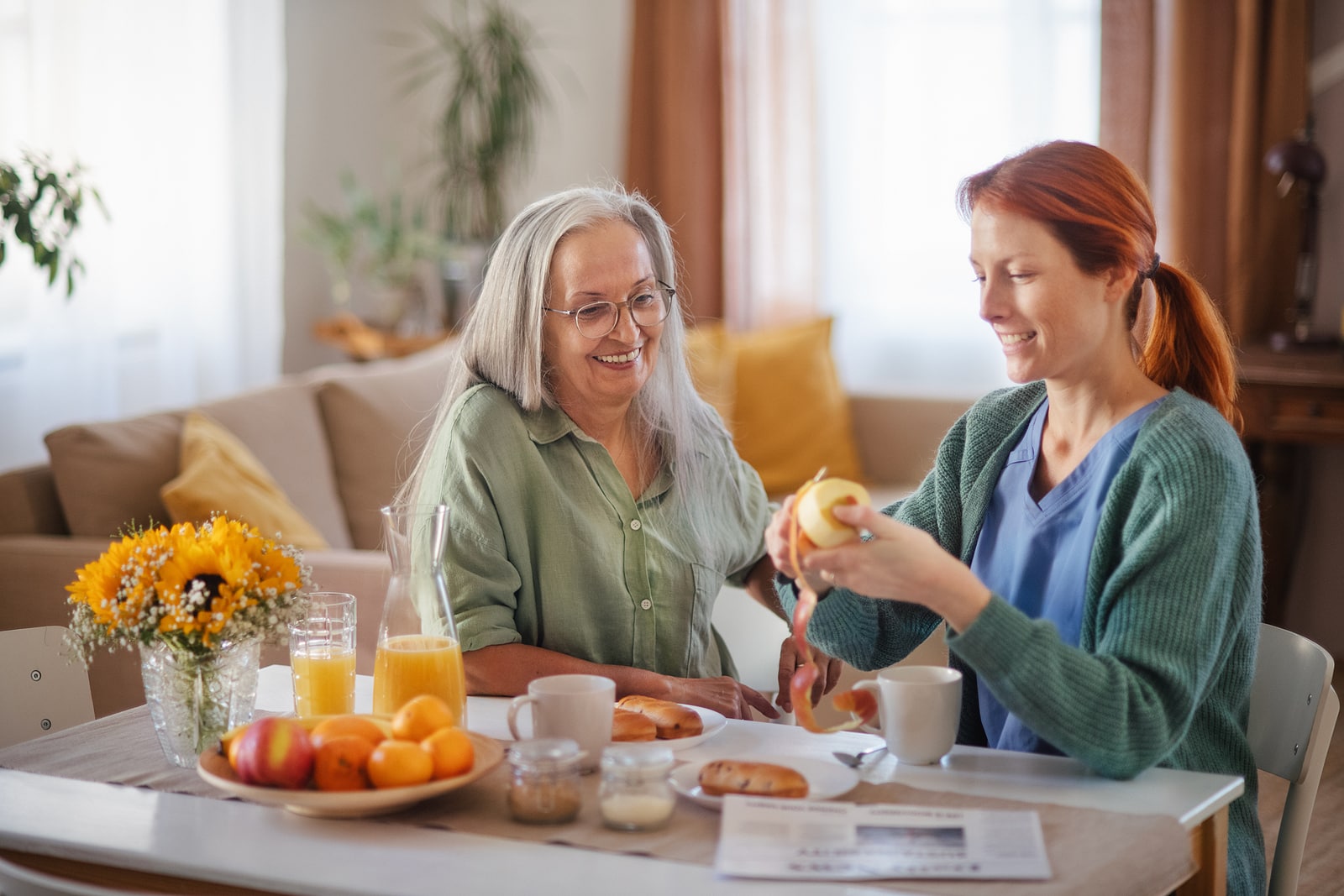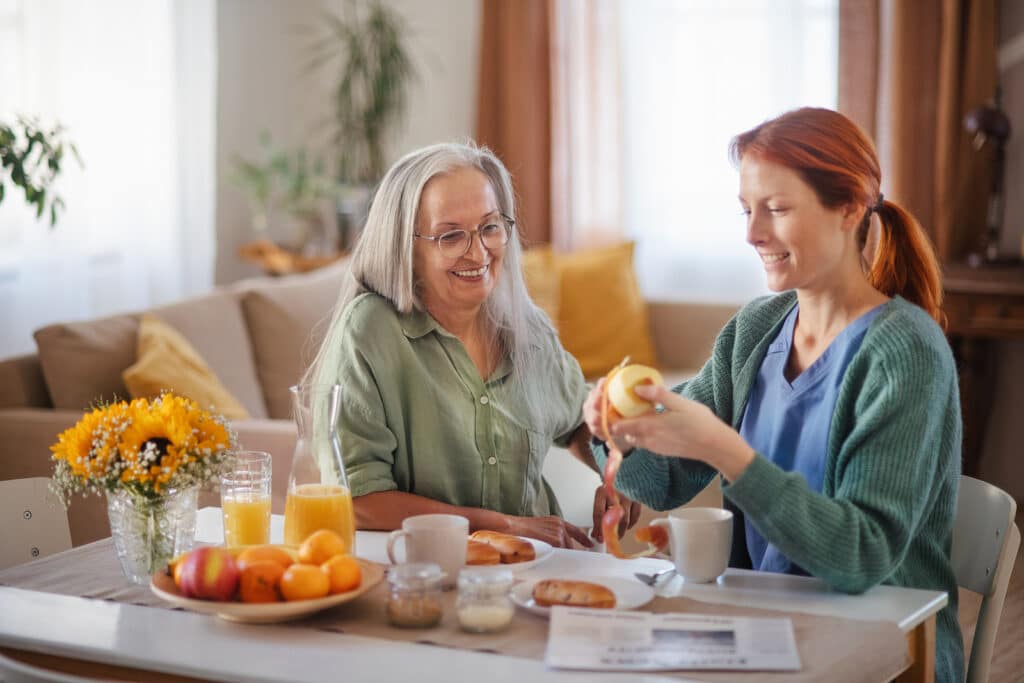 Types of Services Included with Personal Care
Personal care services can include a wide range of activities, depending on the needs of your loved one. Some of the most common services include:
Bathing and grooming: Personal care providers can help with bathing, shampooing, and other grooming activities.
Dressing: Personal care providers can assist with dressing, including helping with fastening buttons and zippers, and selecting appropriate clothing.
Toileting and incontinence care: Personal care providers can assist with toileting, including helping with incontinence care.
Transfers and ambulation: Personal care providers can assist with transfers, such as moving from bed to chair, and ambulation, including using a walker or other assistive device.
Affordable Family Care aspires to be the preeminent home care agency focusing on safety, lifestyle enhancement and positive outcomes.
She requires 24 hour live in service and I found Affordable Family Care in 2006 and have used them since. I get a great rate and the staff is fantastic…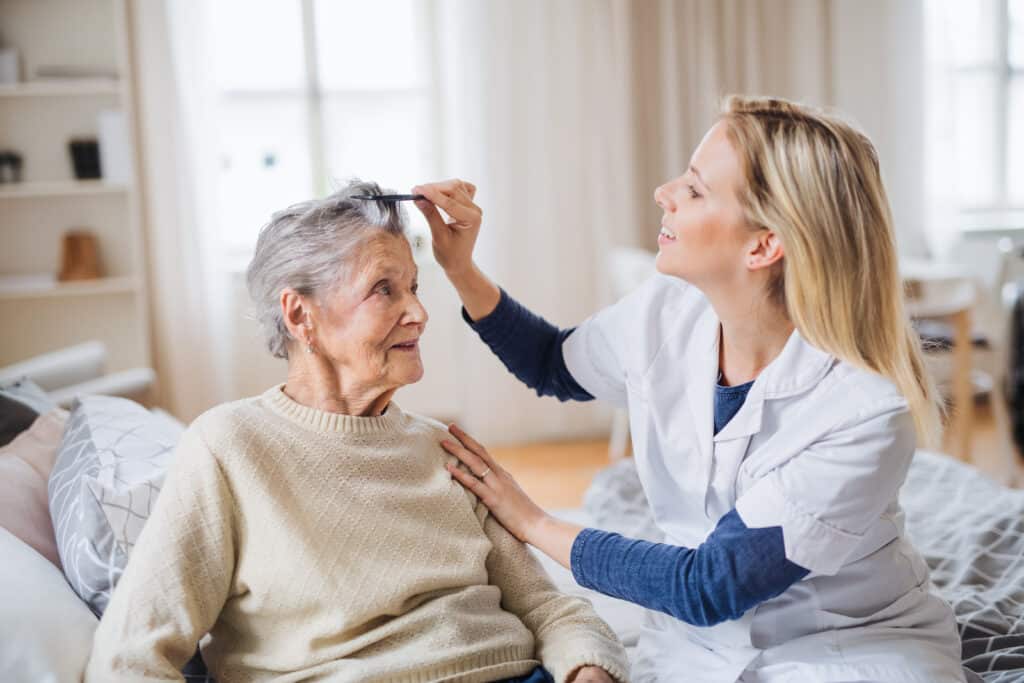 Home Care Helps Convince a Senior That Personal Hygiene is Important
Convincing a senior that personal hygiene is important can be a delicate process, but home care services can provide valuable support in this effort. Home care providers are trained to work with seniors and can use their expertise to help seniors understand the importance of good personal hygiene.
Here are some strategies that home care providers can use to help convince a senior that personal hygiene is important:
Emphasize the health benefits: Home care providers can explain to the senior how maintaining good personal hygiene can help prevent infections, reduce odors, and improve their overall health and well-being. This can help the senior understand the importance of personal hygiene and encourage them to maintain good habits.
Make it a pleasant experience: Home care providers can use their skills and experience to make personal hygiene activities more enjoyable for the senior. They can use warm water and scented soaps, provide a comfortable environment, and use gentle, reassuring touch to make the experience more positive.
Encourage independence: Home care providers can provide the necessary support to help the senior maintain their independence, but also allow them to take an active role in their own personal hygiene. This can help the senior feel more in control and increase their motivation to maintain good habits.
Address any concerns: Some seniors may resist personal hygiene activities due to physical or emotional discomfort. Home care providers can work with the senior to understand and address these concerns, providing support and guidance to help them feel more comfortable.
How Does Home Care Help Give Family Caregivers Respite
Home care services can provide much-needed respite for family caregivers by taking over some of the caregiving responsibilities. This can give you a break from the physical and emotional demands of caregiving and allow you to recharge.
When a loved one requires personal care, it can be overwhelming for family caregivers who may already have a full plate of responsibilities. Home care services can provide assistance with the ADLs, such as bathing, grooming, and toileting, which can take a significant amount of time and energy.
By utilizing home care services, family caregivers can take a step back and focus on other aspects of care, such as managing medications, overseeing doctor's appointments, and providing emotional support. This can help reduce stress and burnout, which are common among family caregivers.
Additionally, home care services can offer overnight care, giving family caregivers the opportunity to get a good night's sleep. This can be particularly helpful for family caregivers who have been providing round-the-clock care and are in need of a break.
Overall, home care services can provide much-needed respite for family caregivers, allowing them to take care of their own health and well-being, and to be better equipped to provide the care their loved one needs.
Affordable Family Care is ready to serve you. Sign-up to get 
peace of mind by clicking here and filling out our get started form.